TindAIR team was happy and proud to be present at the EU Drone Days event held in Brussels on 29-30 November.
The European Commission presented the Drone Strategy 2.0 entitled :
« A Drone Strategy 2.0 for a Smart and Sustainable Unmanned Aircraft Eco-System in Europe. »
This important initiative aims at driving the development of new sustainable drone services and transport solutions throughout Europe. The Drone Strategy 2.0 is guided by a 2030 vision for the use of drones in the lives of Europeans. It addresses the numerous services that drones can provide, including Innovative Air Mobility services (IAM), i.e. air taxis, but also defence aspects with the importance of synergies between the civil and defence drone industries, and security aspects with the concern of threats by non-cooperative drones.
You will find the EU Drone Strategy 2.0 here.
What's more the TindAIR team had the pleasure and honour to present our project to Andreas Boschen, SESAR Executive Director and Jan-Christoph Oetjen, Member of the European Parliament.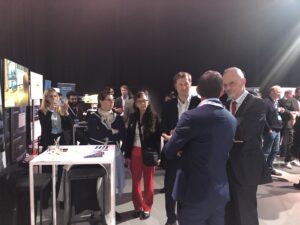 Stéphane Bascobert, President of Innov'ATM, wrote : « It was an honor to present the great achievements of the Tindair project that will unlock the potential growth of the UAM in Europe. The encouraging first results give us confidence that we can safely integrate the drone traffic within the manned aviation traffic. »
Thanks again to Andreas Boschen and Jan-Christoph Oetjen for their support and their interest in our topics. We are very proud of sharing this event with our readers.